FrontRow ToGo is the portable, durable, and powerful Soundfield system loved by thousands of schools around the world.  With the flexibility of 6.5 hours of battery powered operation built into the speaker, this system is designed to move with you, and cover the distance you need when teaching outdoors or across multiple locations at once. 
The system comes with both a headset microphone with belt pack and a handheld microphone, instantly setting you up for team teaching or to support class contributions. The microphones are designed to ensure hygiene is easily maintained on the go with a quick spray or disinfectant wipe.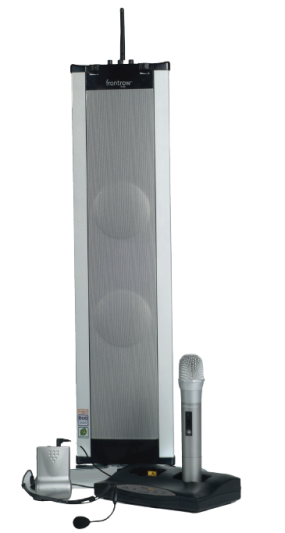 Completely Portable
The ToGo system is Installation-free and completely portable. The onboard rechargeable battery lasts up to 6.5 hours.
Amazing Sound
The two-driver line array gives a more even audio coverage.
FM Compatible
For students with hearing impairments, the ToGo system operates on the same radio band used by their personal assistive listening devices.
FrontRow ToGo
Front Row Juno is one of our most popular classroom soundfield systems.
Ideal Applications:
ToGo is the perfect portable solution for anywhere you need quick and ample amplification.  It is ideal for those lessons that happen in multiple venues, or those that rarely happen in a traditional class environment like Drama, Phys Ed in the basketball stadium, Sports Days out on the track, and even out in the playground.  Join two systems together and cover the entire footy oval! 
Our team has worked with hundreds of Schools – Independent, State and Catholic. We understand the learning environments and can tailor solutions for your school. Whether you have traditional classrooms or newer open learning space, we can help.
FrontRow ToGo
Word of Mouth Technology has helped hundreds of Australian schools and other facilities enjoy the benefits of FrontRow ToGo – Contact us to discuss your requirements.