ez Room trio packs everything you need into a flush mounted 60 x 60 enclosure. Just one system per room provides speech and media amplification and with the addition of our Front Row Conductor server IP paging and bell. Installation is quick and cost efficient too.
The powerful onboard amplifier and integrated speaker array will fill the room with clear and powerful sound.  Trio has a range of configurations to meet the needs of your learning spaces today and into the future.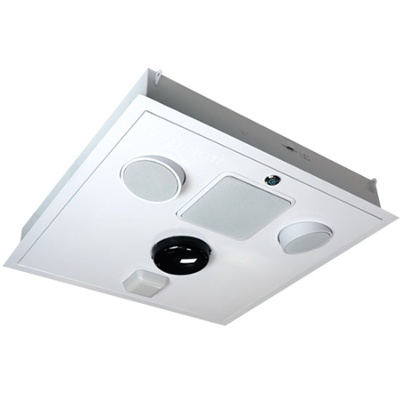 Optivoice
OptiVoice strengthens critical consonant sounds to make the teacher's voice more intelligible in classrooms with poor acoustics and high background noise
Voice Amplification
FrontRow voice amplification ensures an educator's voice is loud enough to be heard in noisy environments like a classroom our gymnasium no matter the distance from the student.
Networked
Trio lives on the local network and can be integrated with Conductor™, a robust IP-based control and school communications solution that covers the entire campus
ezRoom Trio
Imagine a room with one set of speakers that delivers all of your classroom audio requirements.  ez Room Trio delivers this. 
One Platform for all of your audio
A learning space of the future shouldn't just look good it needs to sound good.  We deliver solutions like trio to run all of your audio needs on one platform.  Simply connect to your network and you have speech and media amplification and a powerful IP bells and paging solution for your whole school.
The FrontRow suite allows us to reach every child within the classroom environment, setting them up for success right from the beginning. Improved teacher voice clarity and volume, increased student engagement via the student mics, ability to connect the in-ceiling speakers to our LCD smart panels, and streamlined site-wide PA capabilities are just some of the many reasons we have committed to FrontRow.
Daniel Parry – Assistant Principal – St Thereses PS Essendon